CALABASAS, Calif., April 3, 2020 – On the outskirts of Los Angeles County in California, the parking lot of Cedar Financial's Calabasas headquarters is eerily empty. Without the steady rumble of cars of passing by on the 101 freeway, it's actually somewhat serene.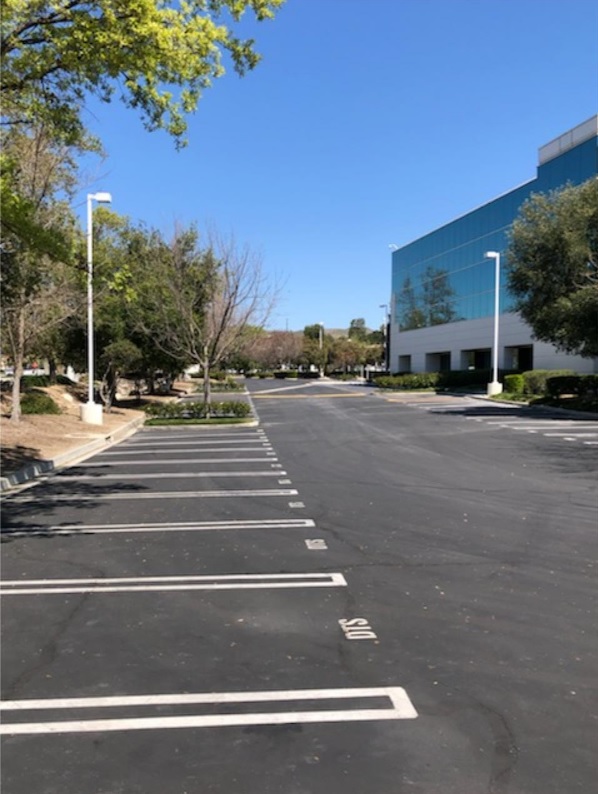 Last week, the property manager announced that a few employees in the neighboring offices tested positive for COVID-19. Since then, most businesses in the park have either gone remote or been placed under mandatory self-quarantine.
But the offices aren't completely empty – skeleton crews still pop in to accept mail and keep things running, all while maintaining a safe social distance and making liberal use of sanitizing wipes.
At Cedar Financial's Lahore, Pakistan location, everyone who can work remotely, is. Those required to go into the office face additional challenges, with police stopping, questioning, and, in some cases, getting physical with them in the streets to enforce the lockdown there.
"I find it really inspiring that, even after being harassed and even beaten by police, people are dedicated enough to continue to go to work to do what needs to be done," says Amir Erez, CEO. "Everyone has really stepped up to get us where we need to be during this situation."
Safer at Home: A Week of Rapid Change in LA
One of the major urban travel hubs of the United States, with a population of over 10 million people, Los Angeles County was one of the first areas in the US with confirmed COVID-19 cases.
While most people weren't sure what to think about the outbreak at the beginning of March, that quickly changed. Within a single week, Angelenos went from business as usual to being confined at home for the foreseeable future.
On March 13, the same day President Trump finally declared a National Emergency, Cedar Financial's executives met with staff to review COVID-19 policies, urging everyone implement social distancing and take the virus seriously.
Signs had already been posted up telling people to wash their hands, avoid touching their face and sanitize often. Now agents' desks were to be spread at least six feet apart, lunches were to be taken at desks and any meetings or one-on-ones conducted via video conference. Anyone who could work from home was encouraged to do so.
That same day, grocery shelves were left bare as people made a run on toilet paper, paper towels, canned goods and more. Hand sanitizer was already long gone.
By the following week, most of the staff was working remotely, keeping touch through instant messaging and text.
Coronavirus Timeline in LA
Thursday, March 12, 2020
Los Angeles County Reports 1st Coronavirus Death
Friday, March 13, 2020
President Donald Trump Declares National Emergency
Saturday, March 14, 2020
Disneyland, California Adventure Close
Sunday, March 15, 2020
LAX Airport Begins Screening Passengers for Coronavirus
Monday, March 16, 2020
Schools, Bars, Gyms, Movie Theaters Close Restaurants Limited to Take-Out, Delivery Only
Tuesday, March 17, 2020
California Courts Shut Down
Thursday, March 19, 2020
CA Governor Issues Statewide "Stay at Home" Order
Global Travel Advisory Raised to 'Do Not Travel'
Friday, March 20, 2020
Los Angeles Mayor Issues "Safer at Home" Order in LA County
Virtual Teamwork: Adapting to a New Reality Together
Now into the second week of sheltering in place, people are starting to feel a bit stir-crazy, either missing social interaction or having too much interaction with close family.
"It's definitely a challenge working with kids in the house. Everyone needs to be quiet and mindful of others while they are working. Sometimes you have to go out and work on the porch for a while," says Amir.
Others are grateful for furry companions keeping them company.
"If it wasn't for my dog, I would be losing my mind over here," says Dell Holden, Director of Sales.
Despite tough circumstances, Cedar Financial isn't giving up.
At a time when so many other companies are struggling or shutting down completely, Cedar is pivoting to make the changes needed to survive this crisis, rapidly deploying a remote workforce and working together to find new ways of doing business.
"To keep our agents safe, we rented laptops and configured them for security in record time. I'm grateful to our IT team, who worked 24/7 to enable our team to work remotely," says Amir.
It's not just the IT team that is stepping up – every department has rallied together, making virtual plans to stay strong and succeed, day by day.
"We have daily huddles and video conferences. Every time a payment is recovered, it is announced within the team," says Amir Erez. "We're helping each other more and fostering a camaraderie that can only be found in facing difficult challenges together."
Coming Together as a Global Community
Cedar Financial isn't just helping employees – it's helping the community at large.
"We have to remember: no one has experienced what's happening right now," says Alan Fasssonaki, Vice President at Cedar Financial.
"This crisis is somewhat unique in that everyone around the globe is feeling the impact," says Amir. "Community no longer means the immediate people in your surroundings – it means everyone, the whole human race. And we all have a responsibility to do what we can to help."
For most, that means following stay-at-home orders and social distancing guidelines to help flatten the curve and reduce the impact on healthcare systems.
But companies can help as well.
"In our area, we've seen businesses go the extra mile to help their community," says Kaitlin Lindros, PR Manager. "Restaurants are making meals for children who can't go to school; stores are making and donating masks for medical workers. It's very inspiring to see everyone coming together like this."
Cedar Financial is doing what it can, on the collections front and as a contact center service provider, providing financial options and contact center support to those in need.
A Case for Compassionate Collections
While some debtors are still working, receiving unemployment or have the means to pay their bills, many more have had their hours reduced, been laid off or gone out of business.
For those feeling the impact of Coronavirus, Cedar Financial wants to help relieve their financial burden, one way or another, even if that means postponing payments.
To help debtors learn about new flexible options, Cedar Financial created Coronavirus-specific scripts and engagement emails designed to help debtors get through this crisis. The new communications focus primarily on empathy, safety and financial security, providing links to resources and options to reduce or postpone payments, if needed.
"Instead of calling again and again to demand payment, we're asking permission to check back in, just to make sure people are doing okay," says Justin Franklin, Collections Manager. "We want to maintain relationships and build trust, so that when the smoke clears, people will be ready to work with us on their accounts."
"We want people to know that we care, that we're willing to work with them to get through this," says Kaitlin Lindros, PR Manager & Content Writer. "We want to show that we really are a People-First company."
Helping Contact Centers Go Remote
Cedar Financial has also launched Cedar Contact – emergency remote contact center services designed to help organizations, businesses and government entities around the world cope with the crisis.
"Essential businesses, like medical providers, emergency hotlines, nonprofits and government agencies, are experiencing enormous spikes in call volumes," explains Amir. "Other businesses are struggling to transition to remote work to keep their employees safe and stay afloat.
"By launching Cedar Contact at this critical time, we are able to create new business for our company, while helping the global community at large get the remote contact center support it desperately needs."
Services include:
– Facilitating 24-hour emergency transitions to remote work
– Reselling Cloud Contact Center as a Service (CCaaS) technology
– Offering BPO solutions, including remote agent staffing
"We are an agile company," adds Amir. "Because of our hard work, Cedar is posed to be stronger and more diversified as a result of COVID-19. We are already starting to see some light in the vast darkness of days, and I am confident that we will turn the corner faster than most organizations."